Cisco 350-801 Bundle
Exam: 350-801 Implementing Cisco Collaboration Core Technologies (CLCOR)
Exam Provider: Cisco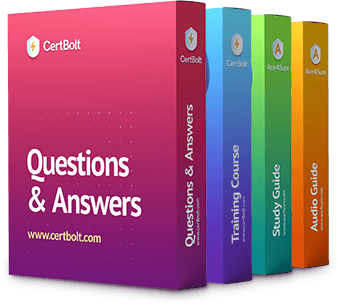 Real Cisco 350-801 Exam Dumps Questions
Cisco 350-801 Exam Dumps, practice test questions, Verified Answers, Fast Updates!
350-801 Questions & Answers

354 Questions & Answers

Includes real 350-801 exam questions types found on actual exam such as drag and drop, simulation, type in, and fill in the blank. Fast updates, accurate answers for Cisco CLCOR 350-801 exam. Exam Simulator Included!

350-801 Study Guide

1435 PDF Pages

Study Guide developed by industry experts who have written exams in the past. Covers in-depth knowledge which includes Entire Exam Blueprint.

Cisco CLCOR 350-801 Exam Dumps, Cisco CLCOR 350-801 practice test questions

100% accurate & updated Cisco CLCOR certification 350-801 practice test questions & exam dumps for preparing. Study your way to pass with accurate Cisco CLCOR 350-801 Exam Dumps questions & answers. Verified by Cisco experts with 20+ years of experience to create these accurate Cisco CLCOR 350-801 dumps & practice test exam questions. All the resources available for Certbolt 350-801 Cisco CLCOR certification practice test questions and answers, exam dumps, study guide, video training course provides a complete package for your exam prep needs.

The Cisco 350-801 exam is part of three certification paths and leads to CCIE Collaboration, CCNP Collaboration, and Cisco Certified Specialist – Collaboration Core. This test verifies one's mastery of the skills required to implement core collaboration solutions.

Certification Details

CCIE Collaboration

CCIE Collaboration is Cisco certification that relates to the expert level and addresses a solid expertise in collaboration solutions. Success in this path sets you apart as a distinguished professional who understands the ins and outs of collaboration technologies. Aside from passing the Cisco 350-801 exam, candidates must also pass one lab test to qualify for this certificate, which in this case is the Cisco CCIE Collaboration v3.0. While the vendor does not list any strict prerequisites for attaining this accreditation, the applicants are advised to have about 5 years of working experience in managing collaboration technologies.

CCNP Collaboration

CCNP Collaboration, on the other hand, is a certificate that proves one's ability to work with collaboration solutions on an intermediate level. Achieving it puts you on course to attaining certification supremacy by acting as the second-best option after the above-mentioned CCIE Collaboration.

Generally, learners must pass a two-exam combination to get certified. The core test, Cisco 350-801, and a concentration one from the options listed below:

Cisco 300-810: Implementing Cisco Collaboration Applications (CLICA)
Cisco 300-815: Implementing Cisco Advanced Call Control and Mobility Services (CLACCM)
Cisco 300-820: Implementing Cisco Collaboration Cloud and Edge Solutions (CLCEI)
Cisco 300-825: Implementing Cisco Collaboration Conferencing (CLCNF)
Cisco 300-835: Implementing Automation for Cisco Collaboration Solutions (CLAUI)

Usually, CCNP Collaboration candidates are expected to have at least three years of proven experience working with collaboration services.

Cisco Certified Specialist – Collaboration Core

Finally, Cisco Certified Specialist – Collaboration Core is a title that recognizes your accomplishments at the professional level. It serves as a validation of an individual's skills and ensures a base for further advancements in the industry.

Cisco 350-801 Exam Details

First things first, you have to schedule the Cisco 350-801 exam at the Pearson VUE website. The test has a duration of 2 hours and verifies one's knowledge of collaboration technologies. Implementing Cisco Collaboration Core Technologies (CLCOR) is the official corresponding training course. Knowlegde areas covered in 350-801 are disclosed in-detail below.

Describing the Test Domains

Cisco IOS XE Gateway and Media Resources

This domain is built around the configuration of specific voice gateway components. These include codec preference list, dial peers, and DTMF. It also addresses the configuration and troubleshooting of ISDN PRI/BRI, skills needed to verify and set up the MGCP, and select the right media resources that are most suitable for certain scenarios.

QoS

This section assesses the candidates' knowledge of common problems associated with poor video and voice quality such as jitter, packet loss, and latency. Also, applicants need to know QoS requirements for video and voice application types and understand the role of different DiffServ values such as EF, CS4, CS3, and AF41 as they relate to collaboration. The next topics covered include the importance of QoS trust boundaries, class models, location-based CAC bandwidth requirements, and setting up as well as verifying LLQ.

Design and infrastructure

Here, the instructors will want to know if you can describe the key components of design when it comes to Cisco Collaboration architecture. They include high availability, bandwidth, sizing, licensing, security, QoS, disaster recovery, and dial plan. Also, the candidates should show their knowledge of the crucial elements that Cisco Collaboration technologies like SNMP and DNS, the purpose of of edge devices within the Cisco Collaboration architecture, and skills in troubleshooting DNS, NTP, and LDAP integration.

Collaboration Applications

This domain will mostly focus on the setting up the SIP integration options to call control, configuration of MWI and Unity Connection Mailbox, and description of call handlers. It also covers the deployment of Cisco jabber on-premises as well as Cisco Unified IM&P protocols and high avilability.

Call Control

This module of the exam outline emphasizes four major skills including those associated with the Mobile and Remote Access (MRA), Cisco Unified Communications Manager digit analysis process, and the implementation of toll fraud prevention. In addition, one should be skilled in the configuration of globalized call routing within a Cisco Unified CM.

Protocols, Codecs, and Endpoints

This is the last domain that candidates need to master when preparing for the Cisco 350-801 exam. It checks one's abilities in troubleshooting a wide range of SIP conversation elements including SDP and DTMF as well as collaboration endpoints, deploying SIP endpoints, and setting up codec negotiations. Also, it requires onw to know how to choose a proper collaboration codec for specific scenario.

Career Opportunities

Once you pass the Cisco 350-801 exam and get certified, you can apply for numerous job roles, which include the following options:

Unified communications engineers

Unified communications engineers are responsible for installing, configuring, optimizing, and maintaining IP telephony systems. These individuals can also troubleshoot operating systems, networks, and other application issues for complex cloud-centered communications. The average annual salary for Unified Communications Engineers is $78k, as stated on PayScale.

Network engineers

Network engineers set up, develop, and maintain computer networks. They offer continued support to their customers, staff, and suppliers based on the requirements of the organization and can also troubleshoot arising issues. According to PayScale.com. the average pay for network engineers is $75k per year.

Senior voice engineer

The responsibilities of a senior voice engineer include delivering voice infrastructure solutions in complex enterprise environments, configuring and implementing Cisco messaging platforms and Cisco VOIP, and resolving challenging incidents at the expert level. The average annual pay for these professionals is $128k, according to ZipRecruiter.

Further Certification Path

Cisco Collaboration is a broad certification path that includes a series of exams at the professional and expert levels. If you are only getting started in this field, getting the CCNP Collaboration certificate would make more sense. Thereafter, you may proceed to attain the CCIE Collaboration certification after acing the lab exam.

Final Thoughts

IT certifications can give you the much-needed flexibility enabling you to choose where you want to take your career. The Cisco 350-801 exam specifically stands out because it not only equips candidates with new skills but also qualifies them for a new certification. Get your career on track today by acing the test and enjoy the endless benefits.

Pass your Cisco CLCOR 350-801 certification exam with the latest Cisco CLCOR 350-801 practice test questions and answers. Total exam prep solutions provide shortcut for passing the exam by using 350-801 Cisco CLCOR certification practice test questions and answers, exam dumps, video training course and study guide.

Cisco CLCOR 350-801 practice test questions and Answers, Cisco CLCOR 350-801 Exam Dumps

Got questions about Cisco CLCOR 350-801 exam dumps, Cisco CLCOR 350-801 practice test questions?
Purchase Cisco 350-801 Exam Training Products Individually
Last Week Results!
240

Customers Passed Cisco 350-801 CLCOR Exam

92.9%

Average Score In Real Exam At Testing Centre

87.9%

Questions came word for word from this dump