CCNP Collaboration Bundle
Certification: CCNP Collaboration (Cisco Certified Network Professional Collaboration)
Certification Provider: Cisco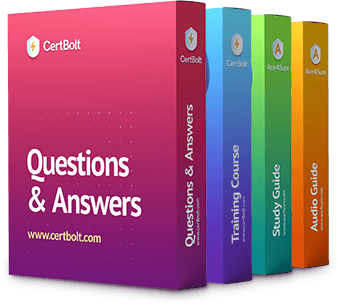 100% Real CCNP Collaboration Certification Exam Dumps
CCNP Collaboration Practice Test Questions, CCNP Collaboration Exam Dumps, Verified Answers
Implementing Cisco Advanced Call Control and Mobility Services (CLASSM)

This 300-815 exam bundle includes 2 products: 150 Questions & Answers, 1225 Study Guide PDF Pages.

Implementing Cisco Collaboration Core Technologies (CLCOR)

This 350-801 exam bundle includes 2 products: 344 Questions & Answers, 1435 Study Guide PDF Pages.

Cisco CCNP Collaboration Certification Practice Test Questions, Cisco CCNP Collaboration Certification Exam Dumps

Real Cisco CCNP Collaboration Certification Practice Test Questions & Exam Dumps for Studying. Cram Your Way to Pass with 100% Real & Accurate Cisco CCNP Collaboration Certification Exam Dumps Questions & Answers. Verified By IT Experts for Providing the 100% Accurate Cisco CCNP Collaboration Exam Dumps & Cisco CCNP Collaboration Certification Practice Test Questions.

The Cisco CCNP Collaboration certificate is meant to prepare learners for exciting roles in the IT field by proving their mastery of collaboration technologies. This certification validates one's knowledge and experience needed to deliver critical business value using collaboration solutions. It suits professionals with various areas of interest due to alternative exams focused on specific areas.

Certification Level

From the name, CCNP Collaboration is part of Cisco's professional path that validates mid-level knowledge of Cisco technologies and products. From the career ladder, this certificate is neatly placed above the associate-level CCNA accreditations and just below the CCIE certification track. Finally, they mark an important milestone in one's career growth as they help to focus on tailoring skills to suit demanded job roles in the modern IT landscape.

Qualification Criteria

There are no mandatory requirements for attaining the CCNP Collaboration certificate. Still, Cisco's recommendations are as follows:

Students should have a solid understanding of the basic exam topics before attempting the tests
CCNP candidates should also possess a minimum of 3-5 years of proven experience in implementing collaboration solutions

Certification Path

There are two types of exams that candidates must pass to earn the CCNP Collaboration certificate including the Core test, Cisco 350-801 (Implementing and Operating Cisco Collaboration Technologies), and one concentration exam. The overview provided below starts with the Core one.

Details of the Cisco 350-801 Exam

Cisco 350-801 is intended to prepare students for tech roles that focus on implementing and operating tasks. By acing this exam, learners will validate the all-important skills required to implement and deploy collaboration solutions and specific networking technologies such as codecs, endpoints, call control, and quality of service (QoS) to mention just a few. This is also the same test that qualifies candidates for the expert-level CCIE Collaboration certification, making it a worthy consideration in almost all aspects of managing collaboration solutions.

The target audience of Cisco 350-801 exam includes the following individuals:

Network administrators
Network engineers
Systems engineers

Exam Topics

1. Design and Infrastructure

This section confirms if a student knows the major design elements relating to Cisco Collaboration, such as Licensing, Sizing, Bandwidth, Dial plan, and Security, among the rest. Besides, it also measures one's familiarity with edge devices within the Collaboration architecture, the skills needed for troubleshooting a variety of network components such as DNS, NTP, and LDAP Integration, etc.

2. Endpoints, Codecs, and Protocols

This topic is purely based on the technical skills listed below:

Troubleshooting the key elements of SIP conversion such as SDP and DTMF
Defining the right codecs according to specific scenarios
The configuration codec negotiations
SIP endpoints deployment
Troubleshooting issues arising with collaboration endpoints

3. Cisco Media Resources and IOS XE Gateway

This domain aims to check one's ability to perform the following tasks:

Configuring the key elements of voice gateway such as DTMF, Dial peers, etc.
ISDN PRI/BRI, its configuration and troubleshooting
Setting up and of the MGCP
Choosing the right media resources considering specific scenarios

4. Call Control

The part related to call control focuses on these subtopics:

Cisco Unified Communications Manager
Implementation of toll fraud prevention
Knowledge of globalized call routing in Cisco Unified CM and its configuration
Description of MRA

5. QoS

QoS as part of the CCNP Collaboration training addresses these skills:

Common problems that may compromise video and voice quality
Requirements of QoS for voice and video application types
Provisioning QoS on a network with class models
The role of given DiffServ values such as CS3, and CS4, AF41, AF42, EF
The trust boundaries of QoS and their importance in LAN-based marking and classification
Determining the requirements of location-based CAC bandwidth
LLQ verification and configuration

6. Collaboration Applications

This is the last objective that's tested by the Cisco 350-801 exam and covers these subtopics:

Configuration of Cisco Unity Connection MWI and mailbox
Configuration of integration options of CUC SIP to call control
Description of the CUC call handlers
Cisco Unified IM&P deployment and protocols
Deployment of Cisco Jabber

About Concentration Exams

The concentration exams are career-specific and designed to validate the knowledge of emerging trends and concepts. For the CCNP Collaboration certificate, candidates should only choose one test from the given options depending on their long-term career goals, specific needs, and experience. The full list includes the following;

Cisco 300-810 (Implementing Cisco Collaboration Applications)
Cisco 300-815 (Implementing Cisco Advanced Call Control and Mobility Services)
Cisco 300-820 (Implementing Cisco Collaboration Cloud and Edge Solutions)
Cisco 300-835 (Automating and Programming Cisco Collaboration Solutions)

It's important to note that all concentration exams have a time limit of 90 minutes and can be taken through Pearson VUE.

Cisco 300-810 Exam

This test addresses the technical skills listed below:

Cisco Unity Express and Cisco Unity Connection
Application clients
Cisco Presence and Unified IM
Single sign-on

Cisco 300-815 Exam

The Cisco 300-815 exam, on the other hand, is built around the following topics:

Signaling and Media Protocols
Cisco Unified Border Element
CME/SRST Gateway Technologies
Mobility
Cisco Unified CM Call Control Features
Call Control and Dial Planning

Cisco 300-820 Exam

Cisco 300-820 exam will address the following areas:

Key concepts
Initial Expressway Configurations
Mobile and Remote Access
Cisco WebEx Technologies

Cisco 300-835 Exam

This is the last exam that students can pick to complete the certification requirements and addresses the following skills:

Network Programmability Foundation
Unified Communication
Cloud Collaboration
Collaboration Endpoints
Meetings

Career Opportunities

CCNP Collaboration is a career-centered certification that opens doors to plenty of opportunities in information technology. There are abundant incentives for accredited individuals including the opportunity to fill the following roles:

Network Engineers
Cisco Network Voice Engineer
Network Architect
Voice Center Engineer
Senior Network Voice Engineer
Senior Network Architect

According to information from SimplyHired, a typical IT professional who attains the CCNP Collaboration certificate can earn an average salary of about $51k annually.

Career Path

After completing this certification path and obtaining CCNP Collaboration, the obvious next step is to enroll for the CCIE Collaboration certificate. This one validates the knowledge of collaboration technologies and solutions at an advanced level. To capitalize on exciting opportunities in the IT sector, you may want to switch gears to a completely different path by enrolling in one of the unified communications certifications provided by other vendors. The options here include Microsoft's MCSE: Productivity, IBM Sametime, or Avaya ACSS.

Pass your next exam with Cisco CCNP Collaboration certification exam dumps, practice test questions and answers, study guide, video training course. Pass hassle free and prepare with Certbolt which provide the students with shortcut to pass by using Cisco CCNP Collaboration certification exam dumps, practice test questions and answers, video training course & study guide.

Cisco CCNP Collaboration Certification Exam Dumps, Cisco CCNP Collaboration Practice Test Questions and Answers

Got questions about Cisco CCNP Collaboration exam dumps, Cisco CCNP Collaboration practice test questions?
Purchase CCNP Collaboration Training Products Individually
Last Week Results!
60

Customers Passed CCNP Collaboration Certification Exam

88.38%

Average Score in Real Exam at Testing Centre

83.38%

Questions Came Word for Word from these CertBolt Dumps