Pass 77-728 Certification Exam Fast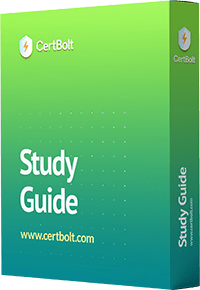 Microsoft 77-728 Study Guide

77-728 PDF Study Guide covers all theoretical aspects of 77-728 Exam

208 PDF Pages

Microsoft 77-728 Exam Dumps, Microsoft 77-728 practice test questions

100% accurate & updated Microsoft certification 77-728 practice test questions & exam dumps for preparing. Study your way to pass with accurate Microsoft 77-728 Exam Dumps questions & answers. Verified by Microsoft experts with 20+ years of experience to create these accurate Microsoft 77-728 dumps & practice test exam questions. All the resources available for Certbolt 77-728 Microsoft certification practice test questions and answers, exam dumps, study guide, video training course provides a complete package for your exam prep needs.

The Microsoft 77-728 exam is a good start towards building a career as a business user. It verifies one's expert-level skills in interpreting data for insights. This test also shows a candidate's aptitude for the advanced Excel environment and the ability to guide other people to the proper use of MS Excel's features.

Ideal Audience

The "Interpreting Data for Insights" exam relates to the expert level of the Microsoft certification path. It is the best choice for people who can create and manage professional spreadsheets for various specialized purposes and situations. Roles of candidates that want to take this test include accountants, commercial bankers, data analysts, financial analysts, and others. There are no certain prior requirements set by Microsoft but one should focus on the exam outline and master all the topics included in it.

Generally, business users aiming to sit for 77-728 need to be conversant with custom business templates, inventory schedules, amortization tables, and multiple-axis financial charts. Excellent candidates will also understand that they need to customize the Excel environment to meet the needs of a project and enhance its productivity.

Overview of the Main Objectives

The questions in this exam are dedicated to four knowledge areas. In the syllabus, they are also divided into several sub-topics. Here is what the applicants may expect to face during 77-728:

The management of workbook options and settings

In this domain, candidates are expected to demonstrate their proficiency in the management of workbooks and should be able to save a workbook as a template, copy macros between two or more workbooks, reference to data in another workbook as well as do it via structured references. Also, one has to know how to enable macros features in a workbook and display the ribbon tabs that were hidden. A good grasp of the management of workbook review is also needed along with the understanding of restrict editing of a workbook, protecting a worksheet as well as the structures of a workbook, configuring options for formula calculation and encrypting a workbook with a password. Lastly, under this area, applicants should be able to manage different versions of workbook efficiently. This module constitutes about 10-15% of the test.

The application of custom data formats and layouts

Here, one should have a solid knowledge about the application of custom data formats and their validation. This means that the candidates need to be able to create custom number formats, configure data validation, and populate cells using the options of advanced Fill Series. One has to be proficient in the designing of custom conditional formatting rules, including those that use formulas, and be skilled in the management of these rules. Under this domain, one is required to have an excellent understanding of the creation of custom color formats, the creation and modification of cell styles, custom themes, simple macros, and the insertion and configuration of form controls. In addition, the applicants should have thorough knowledge of the preparation of a workbook for internationalization. This means that they need to be experienced in displaying data in multiple international formats, applying the international foreign currency formats, and managing multiple options for the fonts of the body and heading. 20-25% of the questions are derived from this module.

The creation of advanced formulas

This section covers about 35-40% of the exam content. It involves the application of functions in formulas and also checks one's proficiency in performing the logical operations with AND, OR, NOT, and nested functions. The test-takers are also expected to be able to use COUNTIFS, SUMIFS, and AVERAGEIFS functions to do statistical operations. They need to have a thorough understanding of the following functions as well: VLOOKUP, MATCH, HLOOKUP, and INDEX as they will use them to look up data. Finally, the candidates will be tested on the definition of named ranges and objects, the application of advanced date and time functions, the troubleshooting of formulas, and the usage of data analysis and business intelligence.

The creation of advanced charts and tables

In this module, one should show the understanding of how to create advanced charts which include the addition of trendlines to charts, the creation of dual-axis charts, and saving charts as templates. The applicants should be able to create PivotCharts, apply styles to them, manipulate their options, and drill down into details of PivotCharts. The candidates also have to be proficient in referencing data in PivotTables and other related concepts like GETPIVOTDATA function. This module constitutes about 25-30% of the test.

Key Exam Facts

The Microsoft 77-728 exam costs $100 and the candidates need to register for it at the Pearson VUE platform. Due to the online format of testing, 77-728 is available for students worldwide. When it comes to languages, the choices include English, Chinese (simplified and traditional), Korean, French, Spanish, Dutch, German, and Japanese. The test contains 40-60 questions that are given in two formats: multiple-choice and multiple-response. The time limit is 90 minutes and the passing score one has to gain to get certified is 700.

If a candidate fails to ace the exam, the next opportunity for a retake will be after 24 hours from the first try. If one fails again, there is a need to wait for 48 hours before going for the third attempt.

What's Next?

The candidates that successfully ace this exam will earn the Microsoft Office Specialist: Microsoft Excel 2016 certification and thus will be proved as experts in the role of Business User. Also, this test is one of the requirements for the Microsoft Office Specialist 2016 Master certificate. The latter one checks an in-depth knowledge of advanced Excel environments and to obtain it, the candidates need to pass one more exam, either 77-731 or 77-730 by code.

Career Opportunities as a Business User

Any of the above accreditations will make you an advanced user of Microsoft Excel. In turn, this makes you eligible for the roles of a data analyst, or accounting or financial analyst. The salary will not disappoint you too. As stated on the PayScale, these professionals in the senior positions can earn an average of $82k, $70k, and $81k annually, respectively.

Conclusion

Getting a certificate from Microsoft to upgrade and prove your skills will increase your prowess. Pass 77-728 exam to boost your confidence as well as attain more recognition. With this certification or any subsequent one in this field from this vendor, you will have access to more top-rated roles, so opt-in for the test.

Pass your Microsoft 77-728 certification exam with the latest Microsoft 77-728 practice test questions and answers. Total exam prep solutions provide shortcut for passing the exam by using 77-728 Microsoft certification practice test questions and answers, exam dumps, video training course and study guide.

Microsoft 77-728 practice test questions and Answers, Microsoft 77-728 Exam Dumps

Got questions about Microsoft 77-728 exam dumps, Microsoft 77-728 practice test questions?