Microsoft DP-900 Bundle
Exam: DP-900 Microsoft Azure Data Fundamentals
Exam Provider: Microsoft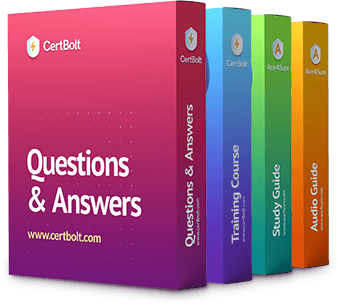 Real Microsoft DP-900 Exam Dumps Questions
Microsoft DP-900 Exam Dumps, practice test questions, Verified Answers, Fast Updates!
DP-900 Questions & Answers

270 Questions & Answers

Includes real DP-900 exam questions types found on actual exam such as drag and drop, simulation, type in, and fill in the blank. Fast updates, accurate answers for Microsoft DP-900 exam. Exam Simulator Included!

32 Video Lectures

Learn from Top Industry Professionals who provide detailed video lectures based on Real Life Scenarios which you will encounter in exam.

DP-900 Study Guide

672 PDF Pages

Study Guide developed by industry experts who have written exams in the past. Covers in-depth knowledge which includes Entire Exam Blueprint.

Microsoft DP-900 Exam Dumps, Microsoft DP-900 practice test questions

100% accurate & updated Microsoft certification DP-900 practice test questions & exam dumps for preparing. Study your way to pass with accurate Microsoft DP-900 Exam Dumps questions & answers. Verified by Microsoft experts with 20+ years of experience to create these accurate Microsoft DP-900 dumps & practice test exam questions. All the resources available for Certbolt DP-900 Microsoft certification practice test questions and answers, exam dumps, study guide, video training course provides a complete package for your exam prep needs.

The Microsoft DP-900 exam is intended for candidates who already have foundational knowledge and skills in performing basic tasks and using Microsoft Azure data services. It is also recommended for those who are starting their careers in the field of cloud data. Although there are no strict prerequisites, every individual who desires to take DP-900 test should have familiarity with non-relational and relational data as well as various types of data workloads such as analytical and transactional.

What Are the Exam Topics?

1. Core data concepts

This topic majorly addresses the following skills:

Various data workloads – this involves an overview of the features of relational data as well as the description, similarities and differences between streaming data and batch data as well as.
Main concepts of data analytics – data visualization, business intelligence (BI), analytics techniques (diagnostic, predictive, descriptive, cognitive, prescriptive) and basic chart types such as pie charts and bar charts are the main concepts addressed in this category. Also, data processing techniques are covered along with ETL processing.

2. How to operate with relational data on Azure

Here, the candidate should be equipped with knowledge and skills in the following sub domains:

Identification of basic management roles for relational data – under this sub domain there are several skills covered that include the deployment and provisioning of relational data, various deployment methods such as Azure Resource Manager templates, Azure portal, Azure command-line interface (CLI), etc. Also, one should be knowledgeable in data components identification (authentication and firewall), the identification of basic connectivity problems such as accessing Azure VNets, firewalls, access from the internet and authentication). One more knowledge area involved is query tools (SQL Management Studio, Azure Data Studio, utility, sqlcmd etc.).
Relational data workloads – the candidate has to gain skills in identifying the appropriate data offerings when it comes to relational workload and learn more about structures of relational data.
Relational Azure data services – this section of the exam is focused on the following: the understanding of IaaS, SaaS and PaaS solutions and their comparison, Azure SQL DB services such as Azure SQL managed instance and Azure virtual machine, Azure Synapse Analytics, and Azure Database for MariaDB, PostgreSQL and for MySQL.
Data querying techniques that require utilizing SQL language – it deals with the Data Manipulation Language (DML) and Data Definition Language (DDL) as well as querying relational data on Azure SQL DB.

3. How to operate with non-relational data on Azure

The main concepts covered in this domain include:

Non relation data workloads – this sub-section mostly emphasizes the features of non-relational data, when to use it, one's knowledge of the variants of NoSQL and non-relational data, and the ability to choose and recommend appropriate data store.
Offerings non-relational data on Azure – within this topic, the learner will be conversant with the following in Azure: data services, Cosmos DB APIs, Table storage, Blob storage, File storage.
Core administration tasks – this sub-domain covers the processes of deployment and provisioning when it comes to non-relational data, data security, diverse tools for management, and defining the issues with connectivity.

4. Workload analytics on Azure

Analytics workloads – under this topic, candidates should learn more about transactional workloads as well as data warehousing workloads. Also, they have to get skilled in differentiating between an analytics and a transactional workload, know the difference between real and batch time, and be able to determining when a data warehouse solution is required.
Elements of a modern data warehouse – this sub-section is focused on Azure data services related to modern data warehousing. In addition, applicants should be familiar with modern data warehousing workload and architecture.
Date processing and ingestion on Azure – main topics within this subdomain include data loading common practices, Azure Data Factory components (activities, pipeline, etc.), and data processing.
Data visualization in Microsoft Power BI – this topic requires candidates to learn more about paginated reporting, dashboards, interactive reports, as well as workflow in Power BI.

Exam Details

The Microsoft DP-900 exam has the following features:

The number of questions is not disclosed but you should expect 40-60 items
It costs $99. As for the job seekers impacted by the pandemic (COVID -19), they can schedule their exam for just $15.
The registration for the test is done at Pearson VUE for non-students who are interested in technology and via Certiport for students or instructors.

Upon passing DP-900, you will earn the Microsoft Certified: Azure Data Fundamentals. It showcases that you have the foundational knowledge on core data concepts and how they can be implemented using Microsoft Azure. Note that Microsoft DP-900 will be updated on January 27, 2021.

Career Prospects

Systems Engineer – this role will keep you engaged in the design and the development of the cloud solutions that are appropriate to the business at hand. These professionals also analyze both the system and software requirements before giving design guidelines. This role is estimated to earn you an average salary of $81k per annum, as per PayScale.
Cloud Solutions Analyst – an early career as cloud solutions analyst or architect is quite lucrative. You can earn up to an average salary of $80k annually with even less than 1 year of working experience in this role. Once you develop in this job, the salary may rise up to the average of $126k per annum. Although the role is so much demanding, you should be ready to do proper evaluation and performance testing of a cloud solution before integration. The main task of these specialists is to ensure that the performance of the system is optimized.
Systems Administrator – as a sysadmin, you will be tasked with providing hands-on support when it comes to system maintenance, operation and administration. You will also be the person concerned in making recommendation of an appropriate software to be deployed. The average salary is estimated to be $63k.

Certification Paths Available

Upon earning Microsoft Certified: Azure Data Fundamentals, you will be able to advance your career to higher-level certifications. For instance, it can be a starting point for Microsoft Certified: Azure Data Engineer Associate or Microsoft Certified: Azure Database Administrator Associate. However, this fundamental accreditation is not a requirement for earning any of the next certificates. Therefore, all you have to do is to pass Microsoft DP-900 exam and prepare to face the real-world challenges as you advance in your career.

Pass your Microsoft DP-900 certification exam with the latest Microsoft DP-900 practice test questions and answers. Total exam prep solutions provide shortcut for passing the exam by using DP-900 Microsoft certification practice test questions and answers, exam dumps, video training course and study guide.

Microsoft DP-900 practice test questions and Answers, Microsoft DP-900 Exam Dumps

Got questions about Microsoft DP-900 exam dumps, Microsoft DP-900 practice test questions?
Purchase Microsoft DP-900 Exam Training Products Individually

Last Week Results!
2280

Customers Passed Microsoft DP-900 Exam

93.3%

Average Score In Real Exam At Testing Centre

88.3%

Questions came word for word from this dump