CompTIA Cloud+ Bundle
Certification: CompTIA Cloud+
Certification Provider: CompTIA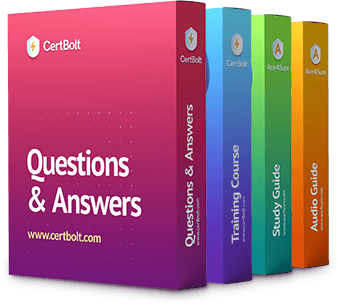 100% Real CompTIA Cloud+ Certification Exam Dumps
CompTIA Cloud+ Practice Test Questions, CompTIA Cloud+ Exam Dumps, Verified Answers
CompTIA Cloud+ (CV0-002)

This CV0-002 exam bundle includes 3 products: 328 Questions & Answers, 77 Video Lectures, 621 Study Guide PDF Pages.

CompTIA Cloud+

This CV1-003 exam bundle includes 1 product: 110 Questions & Answers.

CompTIA CompTIA Cloud+ Certification Practice Test Questions, CompTIA CompTIA Cloud+ Certification Exam Dumps

Real CompTIA CompTIA Cloud+ Certification Practice Test Questions & Exam Dumps for Studying. Cram Your Way to Pass with 100% Real & Accurate CompTIA CompTIA Cloud+ Certification Exam Dumps Questions & Answers. Verified By IT Experts for Providing the 100% Accurate CompTIA CompTIA Cloud+ Exam Dumps & CompTIA CompTIA Cloud+ Certification Practice Test Questions.

The Cloud+ is a prestigious certification provided by CompTIA to validate an individual's knowledge and skills related to cloud-based infrastructure services.

Who Is Cloud+ Certification for?

Being the initial step in the Infrastructure pathway, the Cloud+ certificate is specially designed for IT specialists working closely with cloud-based technologies. It is recommended that the test candidate have at least 2 to 3 years of system administration experience and ace one test coded CV0-002 to earn this qualification. Overall, this certification will be able to immensely further your position in an already established cloud infrastructure technology career and will showcase that the candidate has the right skillset:

to fully grasp cloud technology;
for the implementation, maintenance, and provision of cloud-based solutions;
to understand the importance of security and use the industry set best practices for the implementation of those cloud-based services.

What Is Structure of CompTIA Cloud+ Certification Test?

The Cloud+ exam also known as CV0-002 runs for 90 minutes where the examinee is faced with a maximum of 90 questions. The exam items come in the form of multiple-choice and performance-based tasks. CV0-002 test is offered in English and Japanese and is priced at USD 329 for one sitting. In order to receive the certification for Cloud+, the applicants must attain a score of at least 750 points on a scale of 100 - 900. On successful completion, you will be awarded the CompTIA Cloud+ certificate, which will be valid for 3 years and which can be added to your resume or shared with the connections on your professional networking profile. It is also to be noted that once you are ready to take your exam, you can choose to either do it online or you could opt for an in-person test at one of the many testing centers of Pearson VUE.

What Skills Are Tested in CV0-002?

Overall, there are 5 key areas that are assessed by CV0-002 for this certification. They are Configuration and Deployment, Troubleshooting, Management, Maintenance, and Security. The main content under the five topics has been outlined below:

Configuration and Deployment

This CV0-002 tested domain covers 24% of all exam content and evaluates a vast subject area including the candidate's ability to execute a given deployment plan, analyze system requirements to secure a trouble-free system implementation, and to identify if a provided testing plan is suitable. For a given deployment, the candidate should be capable of analyzing the sizing, subnetting, basic routing, CPU, and memory sizing. Other scopes tested include the ability to analyze test results, the workload for a trouble-free migration, suitable storage, and protection capability. All in all, within this segment, you will have to focus on such notions as target hosts, workflow for execution, high availability, SLA differences, VPN, VT-x, cloning, V2P, and DHCP among many others.

Troubleshooting

This portion takes up 22% and mainly tests the candidate's understanding of the troubleshooting procedure and the ability of candidates to resolve various issues such as deployment, common capacity, automation/orchestration, connectivity, and security types of complications. In particular, you will have to learn how to solve such issues as breakdowns in various workflows, account mismatches, and location changes. Besides, you will have to cover networking outputs as well as connectivity tools, authentication problems, failures with security, encryption cases, and outer attacks. To finalize is providing a theory that explains the reasons for the possible attack cause.

Management

Under the management sector (20%), entrants are expected to be able to analyze defined metrics to identify abnormalities or to predict cloud resources required in the future. The ability to decide on the provisioning and deprovisioning of cloud resources, determine suitable metrics to be reported when the SLA requirements are provided, and allocate appropriate cloud resources will as well be evaluated. Also, candidates should be able to implement account provisioning methodologies in a cloud environment in order to satisfy the security and policy requirements, analyze results of the deployment to ensure that they meet the baseline, and apply suitable changes to meet expected criteria when dealing with a specific environment and related data.

Maintenance

The maintenance domain extends up to 18% of all exam questions and checks the candidate's ability to determine a suitable procedure to apply given patches in a provided cloud service model and the ability to apply various tools, techniques, and measures such as automation tools, maintenance automation techniques, backup or restore techniques, disaster recovery methods, and measures for smooth business operations. Particularly, test-takers will be exposed to such exam concepts as hypervisors, VMs, hotfix, SLAs for DR, third-party websites, business continuity, and its plans, SLAs for BCP & HA, and operations with logs.

Security

This objective covers 16%, where examinees are assessed on their skills in the application of security arrangements and compliance, suitable security automation methodologies, and the implementation of security technologies to meet given security requirements. When it comes to the specific terms within this sector that you must be knowledgeable about, they include tunneling protocols, methods for monitoring access, segmentation, API, web GUI, HIPS, compute, storage, audit requirements, single sign-on, and PPTP if to name a few.

What Are Career Prospects of Cloud+ Certified Specialist?

If you are already in an IT career, the CompTIA Cloud+ certification will give you the opportunity to outshine other applicants. It's common knowledge that the Cloud+ certified individuals are highly sought after in the IT industry. Among the many employment opportunities that this certificate offers, one can work as a Cloud Engineer, Network Engineer, Business Analyst, Project Manager, and Cloud Developer. What concerns an annual average income that this validation can get you, it is around $80k according to the data revealed by Payscale.com.

Career Path

Once you have obtained the Cloud+ qualification, you may want to further polish your tech skills. In case you do not know which certification path to opt for, we suggest that you may earn other CompTIA certificates within the Infrastructure category. Thus, you can start pursuing the Linux+ or the Server+ certifications that will expand your IT knowledge to great heights and will bring plenty of professional and personal perks.

Pass your next exam with CompTIA CompTIA Cloud+ certification exam dumps, practice test questions and answers, study guide, video training course. Pass hassle free and prepare with Certbolt which provide the students with shortcut to pass by using CompTIA CompTIA Cloud+ certification exam dumps, practice test questions and answers, video training course & study guide.

CompTIA CompTIA Cloud+ Certification Exam Dumps, CompTIA CompTIA Cloud+ Practice Test Questions and Answers

Got questions about CompTIA CompTIA Cloud+ exam dumps, CompTIA CompTIA Cloud+ practice test questions?
Purchase CompTIA Cloud+ Training Products Individually
Last Week Results!
95

Customers Passed CompTIA Cloud+ Certification Exam

88%

Average Score in Real Exam at Testing Centre

83%

Questions Came Word for Word from these CertBolt Dumps