Pass 312-49 CHFI Certification Exam Fast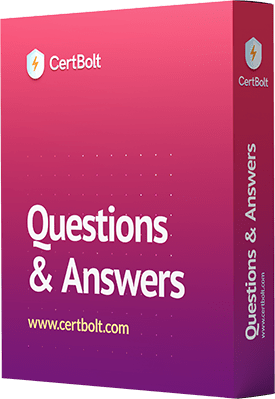 Real ECCouncil CHFI 312-49 Exam Dumps Questions

ECCouncil CHFI 312-49 Exam Dumps, practice test questions, Verified Answers, Fast Updates!

523 Questions and Answers

Includes real 312-49 exam questions types found on actual exam such as drag and drop, simulation, type in, and fill in the blank. Fast updates, accurate answers for ECCouncil CHFI 312-49 exam. Exam Simulator Included!

ECCouncil CHFI 312-49 Exam Dumps, ECCouncil CHFI 312-49 practice test questions

100% accurate & updated ECCouncil CHFI certification 312-49 practice test questions & exam dumps for preparing. Study your way to pass with accurate ECCouncil CHFI 312-49 Exam Dumps questions & answers. Verified by ECCouncil experts with 20+ years of experience to create these accurate ECCouncil CHFI 312-49 dumps & practice test exam questions. All the resources available for Certbolt 312-49 ECCouncil CHFI certification practice test questions and answers, exam dumps, study guide, video training course provides a complete package for your exam prep needs.

The EC-Council CHFI 312-49 is the industry-standard exam that allows individuals to test their skills in computer forensics, hacking, and investigation. If you are rooting for a career in network security and forensic investigation, this exam is a must for you as it will earn you the Computer Hacking Forensic Investigator validation that can lead your way to a high-paying job.

Who Is 312-49 Exam Intended for?

This test was created for IT specialists who work in computer forensics, security for information systems, and incident responses. Also, it's the best exam that can enhance the knowledge of candidates to establish threat intelligence and anti-forensic methods. To ease the prep process for this test, the candidate must be familiar with hacking and forensic technology methods.

What Is EC-Council 312-49 Test?

As mentioned above, the CHFI 312-49 is a certification exam that leads you to the Computer Hacking Forensic Investigator certification. When it comes to its details, it contains 150 questions that you will have to attempt in 4 hours. The test items are presented in the form of multiple choices with the cut passing scores ranging from 60%-85%. Particularly, this exam enables the applicants to get the necessary skills with numerous forensic investigation techniques and standard forensic tools.

What Are Domains Covered by CHFI Exam?

The candidates who are taking this validation need to learn about the concepts related to the following domains:

Forensic science 15%;
Ethics, regulations, and policies 10%;
Procedures & methodology 20%;
Digital evidence 20%;
Systems, tools, and programs 10%;
Digital forensics 25%.

The first tested area revolves around forensic science and deals with computer forensics purposes, forensics readiness, and cybercrime elements. Also, you will learn about web applications and web server attacks in this part. What is more, such a domain prepares the candidate for understanding the network attacks, mobile & forensics devices like operations based on various mobile systems, the reporting of cybercrime, and understanding the role of an expert witness in computer forensics.

The second section focuses on identifying legal reports and issues related to the forensic investigation. Apart from it, the candidates should know about acts and laws against email crimes and recognize reports related to log management. Moreover, you will also get knowledge about the information security policies & BYOD of the firm and will determine the security incident that requires specific legal actions. Finally, within such a scope, you'll get enlightened on common ethics when testifying and will learn how to check for legal problems when it comes to different computer forensic investigations.

As you remember, the third tested objective is procedures and methodology. It covers the exploitation of information technology systems and digital storage media to resolve cybercrimes. It also describes the processing of crime scenes, developing plans to investigate the violation, and suspicious activities when using the internet. Identifying attackers, coordinating with intelligence analysts to relate threat assessment data, finding a responder, performing computer network defense incidents, and identifying digital evidence is the part of the official exam. Moreover, the defeating anti-forensics techniques, logging event correlation, management, performing network defense analysis and reporting, developing as well as writing the defense reports on incident findings knowledge will be as well tested by 312-49.

The fourth scope covers digital evidence and details applying the concepts of ETI, understanding the evidence roles, and using specialized equipment & techniques. The computer forensics labs also describe the HDD SSD, CD/DVD, PDA, GPS, and mobile phones used for data and recovery processes. Besides this, the knowledge about understanding hard disks, disk boot process, file systems helping in forensic investigations, Linux file systems are also included in the syllabus of the CHFI test. The candidates will also learn about Mac OS X file systems, RAID storage systems, file carving process, and image formats. Finally, the test will include topics like malware analysis, characteristics of hardware, software, and performing different processes related to mobile forensics.

When it comes to tools, systems, and programs, candidates will need to master the concepts relating to the toolkit for the First Responder and will need to support computer network defense tools. Then, you will have to know how to deal with various forensic tools for Windows and data acquisition, including anti-forensics. Apart from these, applicants will have to familiarize themselves with the steganography, database, password cracking, and network forensics aids. Finally, to be a real master in 312-49 exam, you will need to get skilled in malware, mobile, email, and cloud forensics toolkits.

The final tested domain defines digital forensics. Here, you will get knowledge about performing malware analysis involving file signature one. It also includes examining the file systems in Ext2, UFS1, NTFS, and UFS2, collecting the non-volatile and volatile information, performing Windows analysis, and examining MAC log files, forensic data, and MAC directories. Under this domain, you will also learn about steganalysis for recovering the data hidden by using steganography. Other important parts of such an exam are analyzing logs and investigating network traffic, email crime & violation, cloud, and malware forensics.

What Are Career Opportunities Available for Certified Specialists?

After achieving the EC-Council Computer Hacking Forensic Investigator certification, you will get a lot of opportunities for your IT career. It makes you an eligible candidate for job roles with decent salaries such as the following:

Cyber Security Analyst;
Cyber Security Engineer;
Information Security Analyst;
Information Security Manager.

The average salary of the CHFI specialist is around $94k annually as revealed by Payscale.com. Overall, this certification will bring many opportunities for you and advance your career within the IT sector. Also, by sharing it on your profile, you can attract a lot of potential employers.

Career Path to Follow

If you want to excel in your career and get a Master's knowledge in IT Security, you can look for applying for the EC-Council University Master of Science in Cyber Security. You can also consider other certifications like the Certified Penetration Testing Professional or CPENT to master in multi-domains and get even a more high-paying job.

Pass your ECCouncil CHFI 312-49 certification exam with the latest ECCouncil CHFI 312-49 practice test questions and answers. Total exam prep solutions provide shortcut for passing the exam by using 312-49 ECCouncil CHFI certification practice test questions and answers, exam dumps, video training course and study guide.

ECCouncil CHFI 312-49 practice test questions and Answers, ECCouncil CHFI 312-49 Exam Dumps

Got questions about ECCouncil CHFI 312-49 exam dumps, ECCouncil CHFI 312-49 practice test questions?
Last Week Results!
80

Customers Passed ECCouncil 312-49 CHFI Exam

88%

Average Score In Real Exam At Testing Centre

83%

Questions came word for word from this dump