CompTIA CAS-003 Bundle
Exam: CAS-003 CompTIA Advanced Security Practitioner (CASP) CAS-003
Exam Provider: CompTIA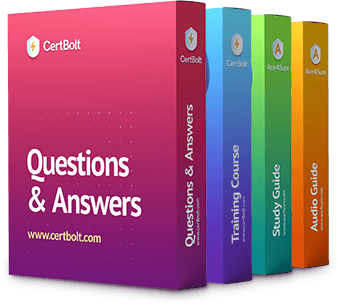 Real CompTIA CAS-003 Exam Dumps Questions
CompTIA CAS-003 Exam Dumps, practice test questions, Verified Answers, Fast Updates!
CAS-003 Questions & Answers

437 Questions & Answers

Includes real CAS-003 exam questions types found on actual exam such as drag and drop, simulation, type in, and fill in the blank. Fast updates, accurate answers for CompTIA CASP+ CAS-003 exam.

260 Video Lectures

Learn from Top Industry Professionals who provide detailed video lectures based on Real Life Scenarios which you will encounter in exam.

CAS-003 Study Guide

1220 PDF Pages

Study Guide developed by industry experts who have written exams in the past. Covers in-depth knowledge which includes Entire Exam Blueprint.

CompTIA CASP+ CAS-003 Exam Dumps, CompTIA CASP+ CAS-003 practice test questions

100% accurate & updated CompTIA CASP+ certification CAS-003 practice test questions & exam dumps for preparing. Study your way to pass with accurate CompTIA CASP+ CAS-003 Exam Dumps questions & answers. Verified by CompTIA experts with 20+ years of experience to create these accurate CompTIA CASP+ CAS-003 dumps & practice test exam questions. All the resources available for Certbolt CAS-003 CompTIA CASP+ certification practice test questions and answers, exam dumps, study guide, video training course provides a complete package for your exam prep needs.

About the Certification and Whom It Is Intended for

Advanced Security Practitioner or the CompTIA CASP+ certification is intended for anyone wanting to build a career in security operations and risk management. This advanced-level certificate will grant you the possibility to become an expert with knowledge of cybersecurity frameworks and policies and their proper implementation.

While there are no strict prerequisites, CompTIA recommends interested individuals to have at least 10 years of experience in IT Administration, 5 years of which should be related to practical tests in technical security. To obtain CASP+, candidates are required to take the CompTIA CAS-003 exam that tests their expertise in enterprise security, risk management, incident response, research and analysis, integration of computing, communication, and business disciplines.

About Exam

CAS-003 exam consists of a maximum of 90 questions that need to be completed in 165 minutes. The questions are in multiple-choice and performance-based format. You have the option to choose between two languages — English and Japanese. There is no scaled score in this exam; you either pass or fail. CAS-003 will cost $452 for candidates from the USA.

After the successful completion of the test, the candidates will be granted the CASP+ certification that will be valuable for both the employee and the enterprise. This certificate has been approved by the United States Department of Defense and its holders are preferred by Dell and HP for their advanced security personnel.

Topics Covered and Exam Domains

The CompTIA CAS-003 certification exam will cover 19 topics:

Business and industry influences and associated security risks
Security, privacy policies, and procedures
Risk mitigation strategies and controls
Analyzing risk metric scenarios to secure the enterprise
Network and security components, concepts, and architectures
Security controls for host devices
Security controls for mobile and small form factor devices
Software vulnerability, proper security controls
Methods of security assessments
Choosing the appropriate security assessment tool
Incident response and recovery
Host, storage, network, and application integration
Cloud and virtualization technology integration
Authentication and authorization technology integration
Cryptographic techniques
Secure communication and collaboration
Defining industry trends and their impact on the enterprise
Security activities across the technology life cycle
Business unit integration

All these topics are neatly organized into 5 domains:

Risk management

Under this domain, the candidates should be able to synthesize business and industry influences and understand the related security risks. This requires knowledge of risk management, business models, influencing factors, and more. The applicants also have to have an idea about security and privacy policies, the ability to contrast and compare them, and up-to-date knowledge on policy and process life cycle.

In addition, an understanding of strategies for risk mitigation, security controls, reverse engineering of existing solutions, common business documents, and general privacy principles is needed. The candidates should be able to analyze risk metric scenarios and use that to provide security.

Enterprise security architecture

This domain will cover various security components, protocols, vulnerabilities, and more. The candidates ought to understand how to analyze a scenario and successfully integrate network and security concepts and architectures while meeting the presented requirements. The knowledge of various physical and virtual network and security devices, applications, and protocol, network designs, etc. is essential.

The applicants should also be able to perform the integration of security controls for the host device while meeting the security requirements. This involves knowledge of trusted OS, security software, host hardening, hardware vulnerabilities. Furthermore, one should have the skills to successfully integrate security controls on mobile devices. Knowledge of enterprise mobility management, rooting, tokenization, etc. is vital for this.

Finally, exam-takers need to be able to choose the appropriate security controls for given vulnerability scenarios. This requires knowledge of various application issues, application security designs, database activity monitoring, firmware vulnerabilities, and more.

Enterprise security operations

When solving the tasks related to this domain, the candidates are given a scenario where they should successfully conduct an evaluation using various security methods such as malware sandboxing, fingerprinting, pivoting, and such. Knowledge of different network tools is required for analyzing those scenarios and choosing an appropriate tool. Furthermore, the knowledge of e-discovery, data breach, and the various aspects related to that should be used by candidates to implement incident response and execute proper recovery procedures.

Technical integration of enterprise security

In the fourth domain, the applicants are given a scenario that will test their knowledge of the integration of networks, hosts, storage, and applications to secure enterprise architecture. This requires an understanding of diverse standards, adaption to data flow security, interoperability issues, data security considerations, network secure segmentation and delegation, and such. Moreover, the candidates should be able to integrate cloud and virtualization technologies into secure enterprise architecture using their knowledge of cloud augmented security services, data security, vulnerabilities, and more.

This domain also tests the candidates' ability to integrate and troubleshoot advanced authentication and authorization technologies. This also involves understanding various aspects of attestation, identity proofing, and more. The candidates are required to have an idea about cryptographic techniques as well as the ability to expertly select suitable control to secure communications and collaboration solutions.

Research, development, and collaboration

To answer the questions under this section, the candidates should perform research whilst applying proper methods and determine industry trends to identify the impact on the enterprise. This requires knowledge of research practices, security implications of business tools, and such. Moreover, implementing security activities across the technology life cycle, which is included in this domain, will be benefited by one's knowledge of system development life cycle, software development life cycle, documentation, etc.

Finally, individuals need to know and explain the importance of interaction across business units to achieve security goals. This includes knowledge of implementation of security requirements, and aspects related to it, among others.

Career Opportunities

The CompTIA CASP+ certification is considered an industry-standard in risk management and enterprise security. Earning it will open up various career opportunities with decent annual salaries, that include:

Security Architect $122k
Security Engineer $92k
Technical Lead Analyst $92k
Application Security Engineer $98k

Pass your CompTIA CASP+ CAS-003 certification exam with the latest CompTIA CASP+ CAS-003 practice test questions and answers. Total exam prep solutions provide shortcut for passing the exam by using CAS-003 CompTIA CASP+ certification practice test questions and answers, exam dumps, video training course and study guide.

CompTIA CASP+ CAS-003 practice test questions and Answers, CompTIA CASP+ CAS-003 Exam Dumps

Got questions about CompTIA CASP+ CAS-003 exam dumps, CompTIA CASP+ CAS-003 practice test questions?
Purchase CompTIA CAS-003 Exam Training Products Individually

Last Week Results!
1010

Customers Passed CompTIA CAS-003 CASP+ Exam

96%

Average Score In Real Exam At Testing Centre

91%

Questions came word for word from this dump