RedHat EX200 Bundle
Exam: EX200 Red Hat Certified System Administrator (RHCSA)
Exam Provider: RedHat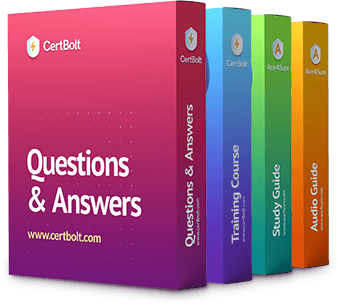 Real RedHat EX200 Exam Dumps Questions
RedHat EX200 Exam Dumps, practice test questions, Verified Answers, Fast Updates!
EX200 Questions & Answers

111 Questions & Answers

Includes real EX200 exam questions types found on actual exam such as drag and drop, simulation, type in, and fill in the blank. Fast updates, accurate answers for RedHat RHCSA EX200 exam. Exam Simulator Included!

71 Video Lectures

Learn from Top Industry Professionals who provide detailed video lectures based on Real Life Scenarios which you will encounter in exam.

EX200 Study Guide

1601 PDF Pages

Study Guide developed by industry experts who have written exams in the past. Covers in-depth knowledge which includes Entire Exam Blueprint.

RedHat RHCSA EX200 Exam Dumps, RedHat RHCSA EX200 practice test questions

100% accurate & updated RedHat RHCSA certification EX200 practice test questions & exam dumps for preparing. Study your way to pass with accurate RedHat RHCSA EX200 Exam Dumps questions & answers. Verified by RedHat experts with 20+ years of experience to create these accurate RedHat RHCSA EX200 dumps & practice test exam questions. All the resources available for Certbolt EX200 RedHat RHCSA certification practice test questions and answers, exam dumps, study guide, video training course provides a complete package for your exam prep needs.

Red Hat is a multinational software company founded in 1993. They provide open-source software products to businesses and also issue IT certifications to help advance careers, one of which is the Red Hat Certified System Administrator certificate that can be earned by passing EX200 test.

Who Is Red Hat Certified System Administrator (RHCSA) Certification Designed for?

This certification is aimed at seasoned system administrators who wish to prove their skills, talented Linux system administrators who require a certification by their organization or a mandate, learners who have completed the official Red Hat System Administration I (RH124) and Red Hat System Administration II (RH134) courses, Information Technology specialists who are trying to become a Red Hat Certified Engineer (RHCE), an RHCE who has out-of-date skills or whose certification is going to expire soon and who wants to again qualify as an RHCE, and finally, DevOps specialists who want to show their competency with container technology.

What Is RHCSA Exam?

To earn the Red Hat Certified System Administrator, candidates will have to pass one exam coded EX200. This test will evaluate a candidate's knowledge and abilities with system administration that is found across many different types of environments and deployment scenarios. The skills tested in this exam will act as the foundation for system administration across all Red Hat products. In particular, EX200 exam revolves around Red Hat Enterprise Linux 8.2 and is 3 hours long, with the registration fee being USD 400. When it comes to the prerequisites of this exam, it is recommended to take both the official RH124 and RH134 courses before attempting the final test. Passing EX200 will bring home the Red Hat Certified System Administrator certificate.

What Are Exam Topics for RHCSA Certification Test?

The RHCSA certification exam assesses a candidate's knowledge and competency in a vast range of IT areas. Thus, the student must demonstrate their aptitude in the following domains:

Essential Tools — This first area will evaluate how well examinees can use shell prompts and make commands in the right syntax, use input-output redirection, analyze texts with grep and regular expressions, use SSH to get into remote systems, log in and switch users, use star and bzip2 to store and unpack files, edit text files, delete and transfer files as well as directories, make soft and hard links, set and change ugo/rwx permissions, and finally, locate and utilize documentation for systems.
Simple Shell Scripts — This next category checks whether test-takers can run codes with conditional statements, process files with looping constructions, process inputs for scripts, processing shell command output, and exit codes.
Running Systems — In this section, skills such as booting and rebooting a system perfectly, booting systems into another target manually, gaining access to a system by intervening in the boot process, killing memory intensive processes, scheduling a process, managing tuning profiles, finding as well as analyzing system log files and journals, saving system journals, stopping and checking the condition of network services, and transferring files safely among systems will all be tested.
Local Storage — This area checks a candidate's ability to make and delete partitions on MBR and GPT disks, remove physical volumes, designate physical volumes to volume groups, create and erase logical volumes, set up systems so they mount file systems according to their universally unique ID (UUID) or label when they boot, add extra partitions and logical volumes, and lastly, change to another system non-destructively.
File Systems — Here, candidates need to mount and use ext4 and xfs file systems, use NFS to increase & decrease file systems, broaden logical volumes, design & implement set-GID directories for collaboration, compress disks, maintain layered storage, and finally, assess and rectify file permission issues.
System Deployment — For this part, candidates will have to use at & cron to schedule tasks, stop services and set up services to start on their own during boot, configure systems so they boot into another target automatically, set up time service clients, install software from a remote repository or from the Red Hat Network, handle package module streams, and lastly, customize the system bootloader.
Basic Networking — Here, students have to demonstrate they can set up IPv4 and IPv6 addresses, operate with hostname resolution, tweak networking solutions to launch on their own at boot, and also restrict network access with the help of Firewall.
Users and Groups — In this next segment, examinees must be skilled at configuring and customizing local user accounts, changing passwords for such accounts, tweaking local groups as well as group memberships, and also setting up superuser access.
Security — This exam objective asks students to tweak firewall configurations, use file access control lists, set up key-based authentication for SSH, configure various modes for SELinux, and to identify SELinux files. In addition, you will have to know how to deal with SELinux policies and settings.
Containers — This last domain checks if candidates can do things such as withdraw container images from a remote registry, inspect container images, use commands such as skopeo and podman to carry out container management, list running containers, and connect persistent storage to a container.

What Career Prospects Are Open to Certified Professionals?

When you have this certification, you'll be eligible for numerous IT positions. All the following career choices below are open to you:

Linux System Administrator;
Development Operations (DevOps) Engineer;
Systems Administrator;
Systems Engineer;
Site Reliability Engineer (SRE);
Unix System Administrator;
Solutions Architect.

Moreover, all these jobs pay giant salaries. According to PayScale.com, the average annual income of a Linux System Administrator is $74,081 and that of a DevOps Engineer is $95,094. The yearly earnings of a System Administrator are anywhere between $45,000 and $88,000, while the salary per annum for a Systems Engineer can be as high as $80,458. A Site Reliability Engineer (SRE) can earn an average amount of $117,417 annually, while the average yearly payout of a Unix System Administrator is $77,474. Lastly, the annual income of a Solutions Architect can reach $118,833. If you were doubting whether it's worth becoming a Red Hat Certified Systems Administrator, then these high monetary figures should convince you to do so.

Career Path

Once this Red Hat Certified Systems Administrator certification is attained, candidates can then pursue the more advanced Red Hat Certified Architect certifications later on.

Pass your RedHat RHCSA EX200 certification exam with the latest RedHat RHCSA EX200 practice test questions and answers. Total exam prep solutions provide shortcut for passing the exam by using EX200 RedHat RHCSA certification practice test questions and answers, exam dumps, video training course and study guide.

RedHat RHCSA EX200 practice test questions and Answers, RedHat RHCSA EX200 Exam Dumps

Got questions about RedHat RHCSA EX200 exam dumps, RedHat RHCSA EX200 practice test questions?
Purchase RedHat EX200 Exam Training Products Individually
Last Week Results!
170

Customers Passed RedHat EX200 RHCSA Exam

89.2%

Average Score In Real Exam At Testing Centre

84.2%

Questions came word for word from this dump