Pass DES-5121 Certification Exam Fast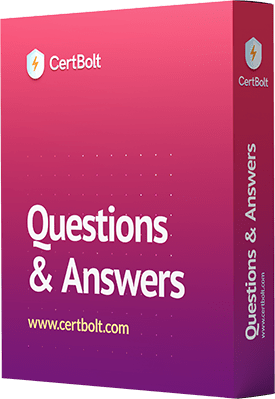 Real Dell DES-5121 Exam Dumps Questions

Dell DES-5121 Exam Dumps, practice test questions, Verified Answers, Fast Updates!

65 Questions and Answers

Includes real DES-5121 exam questions types found on actual exam such as drag and drop, simulation, type in, and fill in the blank. Fast updates, accurate answers for Dell DES-5121 exam. Exam Simulator Included!

Dell DES-5121 Exam Dumps, Dell DES-5121 practice test questions

100% accurate & updated Dell certification DES-5121 practice test questions & exam dumps for preparing. Study your way to pass with accurate Dell DES-5121 Exam Dumps questions & answers. Verified by Dell experts with 20+ years of experience to create these accurate Dell DES-5121 dumps & practice test exam questions. All the resources available for Certbolt DES-5121 Dell certification practice test questions and answers, exam dumps, study guide, video training course provides a complete package for your exam prep needs.

The Dell DES-5121 exam that's offered by Dell Technologies focuses on a wide range of topics associated with the Campus environment as well as Dell EMC Networking N-Series products. It specifically covers DNOS6-based features & protocols and qualifies candidates for the Specialist - Implementation Engineer, Campus Networking certification.

Certification Details: Specialist - Implementation Engineer, Campus Networking

This is a mid-level certificate offered by Dell Technologies to assess the learners' ability to complete the intermediate-level tasks associated with the installation, configuration, maintenance, and troubleshooting of Dell EMC Campus Networking products. To obtain this certification, candidates must first acquire either the recommended associate-level certificate, which is the Associate-Networking Version 1.0, or the Dell Certified Associate-Networking. It's worth noting that the second option, the Dell Certified Associate-Networking, is no longer available but remains valid for candidates who had already attained it before it was retired.

DES-5121 Facts

In the main exam, applicants will have to solve 60 test items within 90 minutes. Note, that the questions will be based on such products like Dell EMC Networking N-Series alongside switches. To add more, to attain your designation, you need to score at least 63%. To do this, you need to have a good command of the topics tested which are covered next.

Test Domains Revealed

By and large, the DES-5121 exam will likely focus on 9 topic areas including the following:

Networking Overview (8%);
Switch Configuration (11%);
Routing: VLANs and Policy-Based Routing (PBR) (15%);
Protocols: Spanning Tree (STP) and Virtual Router Redundancy (VRRP) (15%);
Link Aggregation Group (LAG) and Multi-Chassis Link Aggregation Group (MLAG) (11%);
Security: Access Control Lists (ACLs) (8%);
Security: Port Security Authentication, Authorization, Authorization, Accounting (AAA) Security (14%);
Power over Ethernet (PoE) (6%);
VoIP and Quality of Service (QoS) (15%).

General Exam Information: Comprehensive Look at DES-5121 Functional Areas

Having listed the test domains, let's see what every section entails, in particular:

Networking Overview

This objective will focus on your ability to describe the end-to-end characteristic data flow of a networking campus, identifying and describing the popular topologies for campus networking, and the steps involved in configuring multicasting into an available environment for the multicast.

Configuration of Switches

An area like this focuses on three major skills including describing the major peculiarities of the opening setup regulations for a switch standalone against several switches, explaining the steps involved in configuring a switch for the Dell EMC N-Series and identifying & describing the common steps for upgrading firmware for the switch.

VLANs as well as PBR

This topic focuses on the technical skills related to identifying & describing private VLANs and VLAN routing. This includes their application to campus networking environments. Also, it will cover your expertise in describing the basic operations of policy-based routing (PBR), determining a port membership for VLAN and configuring port trunking, and explaining the steps involved in configuring as well as validating the PBR building.

STP and VRRP

Here, candidates should demonstrate their ability to describe the basic steps for configuring and validating MSTP, RSTP-PV, and RSTP. Also covered are the technical skills associated with the configuration of FastLink, STP protection, and PortFast, the basic operations of VRRP and their components as well as a description of the VRRP priorities.

LAG and MLAG

This domain covers three major skills including describing the configuration of static and dynamic LAG, explaining the troubleshooting of LAG mismatches necessary for configuration purposes and describing the configuration & validation of MLAG arrangements, and upgrading of switch firmware within an MLAG building up.

Security: ACLs

Here, learners will be required to showcase a solid understanding of the technical skills required to check and outline different tasks used to reject or accept IP connectivity and describe the basic configuration steps used to grant host access control, detect & troubleshoot, and resolve access problems for servers.

Port and AAA Types of Security

This topic is all about comparing & contrasting different port-security techniques and identifying ports using enabled port security. Also, it focuses on the configuration of addresses for the sticky MAC and the role of AAA security. By understanding how to configure AAA security and local authentication, you will have improved your mastery of the technical concepts addressed by this scope.

PoE Features

Such an objective focuses on two major skills including your ability to describe the role of PoE, its advantages, the common devices used, and describing the basic steps for configuring PoE on a port for switches as well as measuring output for power.

VoIP and QoS

It is the last topic that will confirm if you are ready to face the actual DES-5121 exam. It tests your skills relating to the configuration regulations for VoIP devices, the basic QoS operations, its features, and how it detects and specifies traffic as well as the configuration of switches for QoS on Dell EMC N-Series. Usually, most of the candidates who excel in this exam have also mastered how an IP phone gets its configuration and why an IP phone won't power on. So, it would be helpful to master these skills as you prepare to face the official test.

Your Job Prospects

Passing the Dell DES-5121 exam clears your path to becoming a network implementation engineer, an admirable role that we will be covering shortly below:

Network Implementation Engineer

As a network implementation engineer, your role will involve configuring, installing, and supporting your organization's network systems. Also, you may be called upon in many circumstances including when new strategies or policies are adopted. What's more, your expertise in handling complex network issues will become vital for the smooth running of your company's network systems and thus, you will be expected to supervise the technical teams under your watch. To compensate network implementation engineers for the countless years they spend to craft their skills, many companies are willing to pay an average annual salary of $75k as for the Payscale.com website.

Career Path

The Specialist - Implementation Engineer, Campus Networking is an intermediate-level designation that follows the Associate-Networking V1 certificate. It is one of the topmost certifications within this track and lies at the pinnacle of the Dell Networking track, together with the DCS-IE: Implementation Engineer, Data Center Networking certificate. So, after obtaining this validation, the best decision is always to gain advanced skills by opting for higher-level qualifications offered by reputable vendors. Some of the best expert-level certifications for network engineers are listed below:

Cisco CCIE;
AWS Certified Advanced Networking - Specialty;
Juniper Networks Certified Enterprise Routing and Switching Expert (JNCIE-ENT).

Pass your Dell DES-5121 certification exam with the latest Dell DES-5121 practice test questions and answers. Total exam prep solutions provide shortcut for passing the exam by using DES-5121 Dell certification practice test questions and answers, exam dumps, video training course and study guide.

Dell DES-5121 practice test questions and Answers, Dell DES-5121 Exam Dumps

Got questions about Dell DES-5121 exam dumps, Dell DES-5121 practice test questions?
Last Week Results!
10

Customers Passed Dell DES-5121 Exam

88%

Average Score In Real Exam At Testing Centre

83%

Questions came word for word from this dump