Pass DES-5221 Certification Exam Fast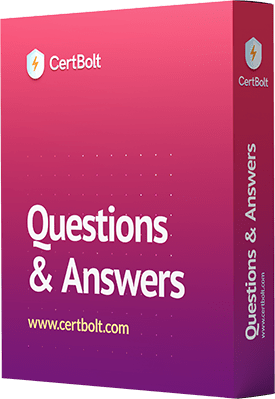 Real Dell DES-5221 Exam Dumps Questions

Dell DES-5221 Exam Dumps, practice test questions, Verified Answers, Fast Updates!

60 Questions and Answers

Includes real DES-5221 exam questions types found on actual exam such as drag and drop, simulation, type in, and fill in the blank. Fast updates, accurate answers for Dell DES-5221 exam. Exam Simulator Included!

Dell DES-5221 Exam Dumps, Dell DES-5221 practice test questions

100% accurate & updated Dell certification DES-5221 practice test questions & exam dumps for preparing. Study your way to pass with accurate Dell DES-5221 Exam Dumps questions & answers. Verified by Dell experts with 20+ years of experience to create these accurate Dell DES-5221 dumps & practice test exam questions. All the resources available for Certbolt DES-5221 Dell certification practice test questions and answers, exam dumps, study guide, video training course provides a complete package for your exam prep needs.

The Dell DES-5221 is an all-inclusive exam associated with the Specialist - Implementation Engineer, Data Center Networking certification. This exam comprehensively covers the popular concepts associated with Data Center Environment as well as Dell EMC Networking Z-Series and S-Series products. Also covered are the OS10-based features and protocols of Dell EMC Networking SmartFabric.

Leading Certification Path: Specialist - Implementation Engineer, Data Center Networking

This designation is an intermediate-level certification that assesses the candidates' knowledge and technical ability to install, configure, maintain, and troubleshoot the Dell EMC Data Center Networking products. The aforementioned DES-5221 exam is just one of the eligibility requirements associated with this test. To complete your certification process, you must also attain the Associate-Networking Version 1.0 validation. In the past, candidates would also meet the eligibility requirements by attaining one of the Dell Certified Associate-Networking or the Dell Certified Professional-Networking certifications which have since been retired. However, if you attained one of the mentioned designations before they were retired, then you still qualify to attempt the official DES-5221 exam.

General Look at Test Details

The Dell DES-5221 exam has a seat time of 90 minutes and brings a total of 60 questions. The passing score is 63% and applicants can get the official practice test to help them prepare for the actual exam. Also, the vendor recommends that candidates should be well versed with the following products as part of routine studying towards the Specialist - Implementation Engineer, Data Center Networking certificate:

Dell EMC Networking S-Series Switches;
Dell EMC Networking Z-Series Switches.

Coverage of Exam Topics

All in all, the DES-5221 exam is likely to cover the following topics:

1. Networks - Basics (19.6%)

This area will start by confirming if the learners can successfully identify the commonly used data center topologies and protocols as well as describe the Dell EMC data center switch portfolio. Also, it covers the basic concepts of switch configuration, access control lists, AAA Security, and Dynamic Host Configuration Protocol (DHCP). Then, if you can demonstrate your expertise in working with DHCP's fundamental notions, the role of access control, S and Z-Series switch operating OS 10, and the AAA functions alongside processes, you will be well placed to excel in this exam in the first attempt.

2. Layer-2 Technologies and Protocols (20.1%)

This objective covers four key technologies associated with the DES-5221 exam including Virtual LANs, Spanning-tree Protocol, Link Aggregation Groups, and Discovery Protocols. Here, candidates will be expected to complete a series of tasks such as identifying the features of VLAN, configuring VLAN trunking, identifying the STP operations and use cases, configuring & validating RSTP/MSTP/RSTP-PV, and identifying the LAGs operations as well as use cases. Also, you should be willing to showcase your expertise in configuring, verifying, and troubleshooting dynamic LAGs, describing the features of discovery protocols, and interpreting LLDP outputs.

3. Discovery Protocols - Describing Characteristics of Discovery Protocols. Describing Use Cases for Using Discovery Protocols. Explaining How to Configure and Validate. Configuring Discovery Protocols. Interpreting LLDP outputs (30.7%)

This is the widest of all the four topics covered by the Dell DES-5221 exam and it addresses basic routing, open shortest path first, border gateway protocol, policy-based routing, and the identification of design best practices for configuring BGP within a leaf/spine environment. Here, the instructors will expect the learners to demonstrate their proficiency in IPv4 configuration on specific interfaces, OSPF, and BGP & PBR operations.

4. Data Center Technologies and Protocols (29.6%)

The scope of Data Center Technologies and Protocols is centered around six major technologies including Virtual Link Trunking, Virtual Router Redundancy Protocol, Uplink Failure Detection, Virtual Routing and Forwarding, Quality of Service, and Multicast. Thus, under this domain, learners should be ready to demonstrate their expertise in describing the components of a VLT configuration, configuring and validating VLTs, describing the basic VRRP operation & its priorities, and explaining in detail the basic concepts associated with IP Multicast technology. It's worth mentioning that the concepts covered in this post may not reflect everything that's detailed by the actual DES-5221 test. Thus, visiting the official certification page before scheduling your exam would make perfect sense.

Career Opportunities

Here's what job roles to opt for after passing the Dell DES-5221 exam:

Data Center Networking Specialist

A data center networking specialist deals with the application, strategy, and design of data center services. What is more, these individuals demonstrate an in-depth understanding of data center networking and Software-Defined Networking (SDN), which is crucial in private and public network setups. To kickstart your career, you should obtain the right skills and qualifications that will make you a forward-thinking IT specialist in any organization. Becoming a data center networking specialist also comes with improved earning potential, with the recent reports confirming that a typical IT specialist in this role earns an average salary of around $64k per year as rendered by Glassdoor.

Data Center Network Engineer

Data center network engineers are knowledgeable IT specialists tasked with managing the day-to-day operations of a Network Operations Centers (NOC). On top of that, these individuals interconnect physical and network-centered devices with the necessary equipment within data center facilities. According to the latest reports of Glassdoor.com, a typical data center network engineer earns an average salary of $95,401 per year.

Data Center Technician

In general, data center technicians are responsible for installing & maintaining network equipment and data servers. In addition, their key roles in many IT departments include monitoring the day-to-day server performance, maintaining a well-controlled server environment, and troubleshooting or resolving network server issues. With this title, you can be sure to earn an average salary of $52,332 per year as Glassdoor claims.

Career Path

After attaining the Dell Specialist - Implementation Engineer, Data Center Networking certification, you will likely want to advance by obtaining the Specialist - Implementation Engineer, Campus Networking certificate. If you feel the urge to focus on a completely different path, you may want to check out one of the following certification options:

Cisco CCIE Data Center;
VMware VCP6-DCV;
Juniper JNCIP-DC.

Pass your Dell DES-5221 certification exam with the latest Dell DES-5221 practice test questions and answers. Total exam prep solutions provide shortcut for passing the exam by using DES-5221 Dell certification practice test questions and answers, exam dumps, video training course and study guide.

Dell DES-5221 practice test questions and Answers, Dell DES-5221 Exam Dumps

Got questions about Dell DES-5221 exam dumps, Dell DES-5221 practice test questions?
Last Week Results!
20

Customers Passed Dell DES-5221 Exam

88%

Average Score In Real Exam At Testing Centre

83%

Questions came word for word from this dump